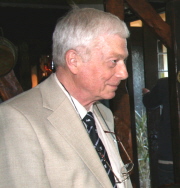 The irregular posts of G. A. Michael Sims, a bookseller based in Lowestoft, Suffolk within sight of the beach at Pakefield (in the header above), specialising in naval and military history, on the works of Dornford Yates and on the history and topography of Lowestoft and the northeast coastal area of Suffolk.
Posts include book reviews, about selling books, of local and military history interest, appeals for information about unusual items, news about local establishments with naval and miltary connections, suggested reading lists on particular aspects of naval and military history, links to any of the above on other sites, general chat about my other interests and rants when politicians irritate me to an extent where I feel I want to shout at them.
The same level of irritation applies to those journalists who sometimes mangle our language and grammar and those who don't know the difference between 'less' and 'fewer' and should really know better. In fact, on reflection, I probably enjoy just being grumpy.
Interests include the promotion of Lowestoft as a tourist destination (retired guest house proprietor), the Lord Kitchener Memorial Holiday Centre which provides accommodation to ex-servicemen and women (retired trustee); and the Royal Naval Patrol Service Association which benefits the veterans of the RNPS and records their WW2 experiences (trustee); and the works of Georgette Heyer, one of the few authors who makes me laugh out loud.